Volunteers,
We've had some scheduling situations happen that I want to address. Please review this information and let me know if you have any questions.
Double Shifts
We've occasionally had volunteers doubled-up on shifts. While this isn't generally a problem (the more, the better), it can create an issue if someone could have used the day off, or perhaps covered another open shift.
When you look at the online schedule calendar, please review those hours/shifts that are already taken. In this example, you'll notice we have two volunteers covering the exact same hours. Before you grab a shift, please review the hours already covered by others.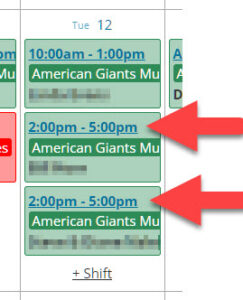 Uncovered Gaps
In some cases, we have gaps in coverage. In the below example, a volunteer is covering 10:00am to 1:00pm, but the next volunteer isn't scheduled until 2:00pm — leaving a one-hour gap. If at all possible, please try to cover up to other shifts. Otherwise, the museum will have to be closed for an hour and reopened.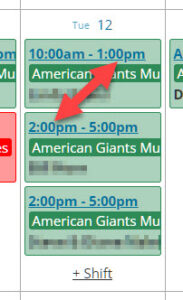 Schedule Ahead
Please schedule your future shifts as soon as possible. Once they are on the schedule, others can see what is covered and what is not covered. The further out we know everyone's shifts, the easier it is for everyone.
Check The Schedule
Checking the online schedule regularly will help us cover as much as possible. There are volunteers that have to drop shifts, even at the last minute. If you check and can pick-up dropped shifts, please do. And if you have a shift coming up soon (in the next few days) and need to drop it, please remove yourself from the schedule and e-mail me so I can try to find others to fill the shift.
Again, thanks to all of you for your work. You make this possible. And I realize we are all learning the new online volunteer scheduling system, which is why I'm posting this information.
Scott McCoy